Our Materials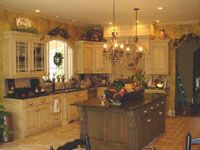 When considering cabinets for your new home or remodel project, Nixon Cabinet is the name you can trust to deliver quality cabinets on time and to your specifications. We take great pride in producing the finest kitchen cabinets from the best materials we can buy. You can choose from a selection of woods that are listed below. Drawer Slides are a standard feature as well as Adjustable Shelves, Concealed Hinges and Crown Moldings. We offer many extra options from Rollout Shelves, Flip Down Sink Trays, Cookie Sheet Dividers and many more.

We can incorporate many of your ideas into your new kitchen. If you see something in a magazine, cut it out and show it to us, if your friend has something you like, take a picture and bring it so we can see it. If you don't have a clue what you want, we can show you what will work in your kitchen to create cabinets that are functional as well as beautiful.

The majority of Nixon Cabinet custom cabinets are made from the following woods:
Ash
American Cherry
Burr Elm
Burr Oak
Burr Walnut
English Oak
Dutch Elm
Maple
Beach

Upon special request the following specialty woods may also be used:
Zebra Wood
Yew
Spotted Beach

We can order over 90 different kinds of hardwood for cabinetry. If you don't see what you are looking for, or desire a specific effect, let us know. Cabinets can be built to any specifications with nearly any kind of hardwood.